Pathway Genomics ensures identity management with Active Directory and outsources IT to leverage greater talent at better price


Pathway Genomics Corporation, a Biotechnology company with 90 employees needed to revamp its entire IT department. Almost one-third of their employees work remotely and travel internationally so secure collaboration is a must-have. Outsourcing IT was the best solution to achieve this. At the same time, they needed to make sure their MSP would be able to ensure regulatory compliance they need to abide to such as HIPAA.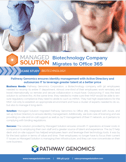 Download the case study to learn more.