After not passing an audit, financial organization gets compliant with Office 365 migration


During a recent audit, a financial organization was using Google Apps and did not pass regulatory compliance. They needed assistance from a technical partner to aid them off Google and utilize a new business platform.
Their current IT Manager also had several responsibilities and did not want to worry about daily IT issues. They needed a partner that provided technology consulting to move forward with solutions scalable for company growth.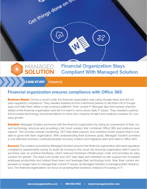 Download the case study to learn more.