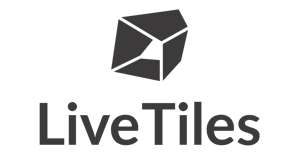 Managed Solution partners with LiveTiles to offer customers more options to bring their workplace to life.

Using LiveTiles library of pre-coded 'drag and drop' features to create a mobile-friendly dashboard that integrates resources and business applications on a single pane of glass, companies are able to create a digital workplace that boosts productivity.
LIVETILES SHAREPOINT

Create captivating sites on SharePoint and Office 365 to give your teams a phenomenal user experience, with no coding necessary.
LIVETILES CLOUD
Give teams the ability to create a seamless workplace experience across devices, departments, and time zones with the ultimate SaaS offering.
LIVETILES MX
Empower teams with custom, mobile-friendly LiveTiles Design solutions so they can access what they need anywhere, anytime.
To learn more about our partnership, take a look at this short video.
About Live Tiles
Live Tiles is a global software company headquartered in New York, with operations in Seattle, Tri-Cities (Washington State), San Francisco, Los Angeles, Chicago, Minneapolis, North Carolina, London, Zurich, Amsterdam, Sydney, Melbourne, Brisbane, Hobart. LiveTiles' products comprise LiveTiles Design, LiveTiles Bots, LiveTiles Intelligence, LiveTiles for SAP Software, LiveTiles MX and LiveTiles Mosaic. LiveTiles customers represent a diverse range of sectors and are spread throughout the United States, United Kingdom, Europe, the Middle East and Asia Pacific.
Fill out the form below to request more information.