"The switch to Managed Solution was life a breath of fresh air."



The San Diego Eye Bank is a Non-Profit in the field of cornea transplantation and medical education.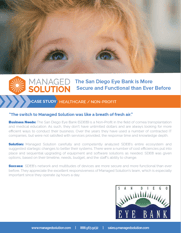 As
such, they don't have unlimited dollars and are always looking for more efficient ways to conduct their
business. Over the years they have used a number of contracted IT companies, but were not satisfied with the services provided, the response time and knowledge d
epth. Until they found Managed Solution.
Download the case study to learn more.